For many photographic genres, the camera itself makes little difference because you really improve your images by learning how to work with the camera you have to create great composition, good light, and a little bit of creativity, but in the case of night photography, the right camera really does make a huge difference when it comes to capturing those incredible images. So, what features make for great night photography cameras?
ISO: One of the biggest things you want in a camera for night photography is good performance at high ISOs. ISO refers to the camera's sensitivity to light. The higher the ISO number, the more your camera is sensitive to the available low light. But, the problem is that when you increase the ISO, you tend to get more noise in the image. Noise refers to that grainy appearance to the image. For night photography, you'll likely be shooting at ISO 3200, 6400 or even higher, and so, that means you'll want a camera that performs well at higher ISOs. Most modern cameras perform well with high ISOs and won't leave you with a grainy image, but you want to make sure the camera has a high ISO range.
Dynamic Range: Since you'll often be underexposing your images when shooting at night, it's very important that your camera is able to lift the shadows in post-processing with degrading the image. Therefore, being able to light shadows or dark areas in your scene without introducing an unacceptable level of noise is crucial for any camera you choose for night photography. For this, you need a wide range of focus since without it, you'll lose detail in the shadows.
Large Sensor: Since you'll likely be shooting in low light conditions, you'll want a large sensor to capture as much light as possible. That will help to reduce the noise in your images too. A camera sensor with a large dynamic range and high sensitivity is able to collect more light than a smaller sensor because of the size of the imaging area.
What are the camera settings you want to use for night photography?
Once again, it's all about the lighting with night photography, and any camera you choose should be able to handle the following settings:
Shoot in manual mode: You'll need a camera that allows you to switch to manual settings since you'll often have to override certain settings to get the shot you want. The automatic mode will only serve to confuse the camera, and thus, it's better to shoot in manual mode.
Use a wide aperture: The aperture is what allows the light to enter the camera. The wider the aperture, the more light comes in. Since you'll be shooting in low light conditions at night, you'll want to use as wide an aperture as possible in most cases. Typically, you'll want camera lenses that can open at least as wide as f/2.8 if not even a little wider at around f/1.2 – f/1.8.
ISO: As we've discussed, you'll want a high ISO number. You can start at around 800, but you'll often have to go higher–to 3200 and sometimes more.
Longer shutter speed: This setting depends on your scene, but for something like the night sky, you'll need a shutter speed of 10 seconds or more. That's considered a long time, but even if you're shooting in an urban setting with artificial light, you'll still likely need a 2 – 10 second shutter speed–that's still longer than if you were shooting in the daytime.
The Best Cameras for Landscape Photography
So, having discussed some of the features to look for in a landscape camera, below you will find a handful of options that I believe are some of the best cameras for landscape photography.
Nikon D850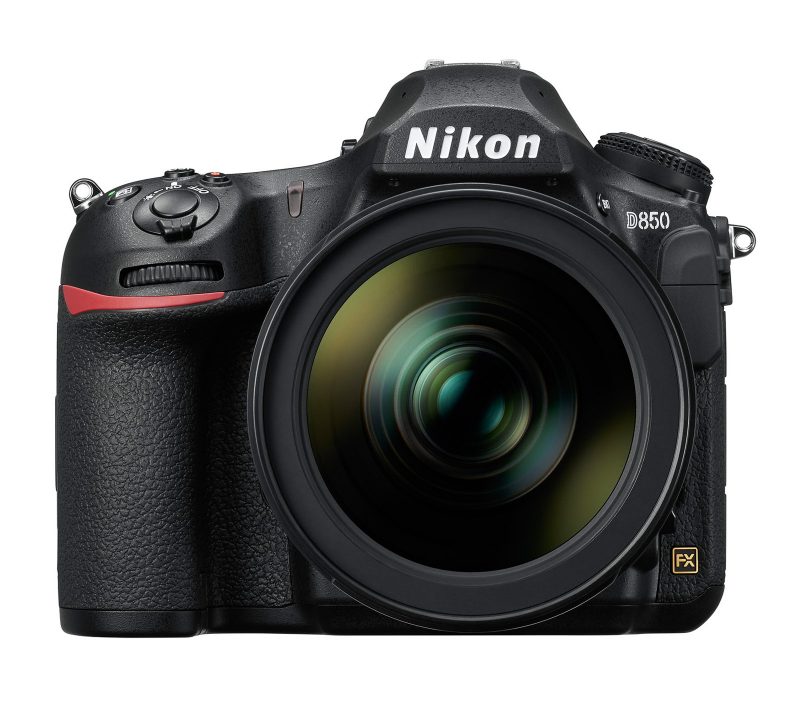 With its massive 45.7-megapixel resolution and outstanding dynamic range, the full frame D850 is hard to beat. The camera captures extraordinary detail, boasts superb high ISO performance and is sharp, silent and handles intuitively. It has a 153-point AF system, 4K Ultra HD video recording and boasts a maximum burst rate of 9fps.
It is designed with a tilting touchscreen monitor, Focus Shift shooting mode (to make it easier to focus stack) and is one of the first SLRs to offer focus peaking. It is a great all round performer – an ideal choice for photographers who enjoy shooting both landscapes and nature. And it is my choice for my very own photography. Highly recommended.
Canon EOS 5DS R
With a huge resolution of 50.6-megapixels, the Canon EOS 5DS R is currently the DSLR with the highest pixel count. A full-frame model, it is aimed primarily as a stills camera, lacking video-centric features like headphone sockets or HDMI output. This is a solid, professional camera with a price-tag to match.
It is great performer and, if speed and video aren't a priority, this is an excellent choice. Its weather sealed body will appeal to landscape photographers who intend to shoot in all conditions and climates. Its low-pass cancelation filter is designed to enhance the clarity and sharpness of results, with minimal risk of artifacts. This is a serious piece kit of kit.